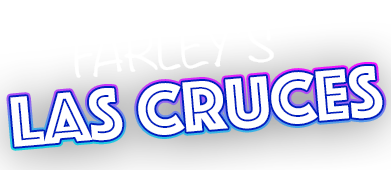 Take a trip to Farley's in Las Cruces, New Mexico…it's a blast!

Welcome to Farley's in Las Cruces, New Mexico where the food is out of this world and the environment will bring you coming back for more.  Whether you're looking for a fun night with your family and friends, or just looking for a cold drink after work, you will find everything you're looking for at Farley's, Food, Fun, and Pub.

From authentic wood fired pizzas, massive burgers, and the best chicken fried goodness you can find, we're here to beat that hunger back with our super power food options. Our limited menu options during this time where worldwide viruses are

WE ARE OPEN
Farley's – Las Cruces
3499 Foothills Drive
Las Cruces, NM 88011
Sun – 11:00AM-8:00PM
Mon – Thurs 11am-9pm  
Fri & Sat 11AM – 10PM
(Hours of operation may change without notice due to restrictions and policies set forth by state and local officials. Thank you for your support and understanding during this time)

Farley's take a lot of pride in what we do…but don't take our word for it!

SHARE THE CRAZY WITH A FRIEND